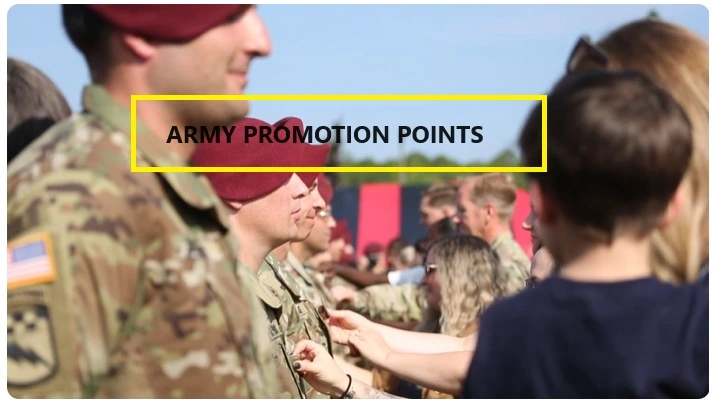 Army promotion points help determine a soldier's eligibility for promotion to the ranks of Specialist (E-4) through Sergeant Major (E-9).
The Army awards promotion points based on a combination of factors that showcase the soldier's skills, achievements, and overall military performance.
The promotion points system ensures that promotions are given based on merit rather than simply on seniority.
How do Army promotion points work?
Purpose: Army Promotion points are a quantifiable metric to evaluate a soldier's skills, conduct, and overall performance.
Acquisition: Soldiers earn points through various channels, including training, tests, on-duty performance, and extracurricular achievements.
Usage: The points directly correlate to promotions. They are accumulated and then used during promotion selection boards to identify soldiers ready for elevation in rank.
Promotion points won't matter unless
It's essential to understand that some prerequisites need to be met for eligibility, irrespective of one's promotion points:
Pass a promotion board.
Graduate from the WLC (Warrior Leader Course).
TIS (Time in Service) and TIG (Time in Grade) minimums:

Primary Zone: TIS = 36 months, TIG = 8 months
Secondary Zone: TIS = 18 months, TIG = 4 months (Note: Points requirements usually soar for those using the secondary zone.)
---
Components: Where do I earn Army promotion points?
You can earn promotion points in four major areas:
Military Training

Weapons Qualification
Physical Fitness

Awards
Military Education

PME
Resident Training
Computer Training

Civilian Education
Military Training:
Points are given for accomplishments such as weapons qualifications, physical fitness test scores, and other training tasks.
Physical Training
A significant portion comes from Physical Fitness Test scores and the Army Combat Fitness Test (ACFT).
Weapons Qualification
Performance in the firing range can garner a soldier anywhere from 25 to 50 points.
Awards and decorations:
Soldiers earn points based on military awards and decorations they've received, from commendation medals to achievements like being named Soldier of the Month.
Military Education:
This includes courses completed to enhance military skills, such as leadership courses or other specialized training.
This can be divided into:
Resident Military Training: Courses completed at service schools
Computer-based courses: These can be taken through the Army's e-learning system, adding more points to your portfolio.
Professional Military Education: This is the professional training, development, and schooling of military personnel.
Civilian Education:
Points can be awarded to soldiers pursuing education outside of their military duties.
GEDs, college degrees, and accredited certifications can all contribute to promotion points.
---
Army Promotion Points Changes and Updates for 2023
The U.S. Army, in its commitment to continuous improvement, has introduced several alterations in the promotion points system. These changes have especially been marked for the Sergeant and Staff Sergeant ranks.
Key dates and affected soldiers:
1 April 2023: The date these guidelines will be implemented
June 2023 is the first promotion month affected by these alterations.
Entities to be Affected: Both the Regular Army (RA) and the US Army Reserve (USAR) fall under the Active Guard Reserve (AGR) category.
Noteworthy Exceptions:
Soldiers outside the AGR framework within the USAR will continue their assessments based on previous APFT scores until 31 March 2024.
ACFT Promotion Point Changes: A Category-wise Look
Even though the aggregate promotion points remain capped at 800, the integration of the ACFT into this system has necessitated adjustments across categories.
Sergeant Aspirants Promotion Points
Sergeants will witness changes in multiple domains, such as:
Physical Fitness: A decrease from 180 points to 120 points
Awards: An increase from 125 points to 145 points
Resident Military Education: augmented from 80 points to 110 points.
Computer Training: Increased emphasis with a jump from 80 to 90 points
Areas maintaining their previous point structures:
Weapons: consistent at 160 points.
Professional Military Education: Stable at 40 points
Civilian Education: Remains at 135 points.
Staff Sergeant Promotion Points
Significant changes were observed in:
Physical Fitness: Dipping from 145 points to 120 points
Resident Military Education: Rising from 90 points to 115 points
Domains with unchanged point values include:
Weapons: 110 points.
Awards: Maintained at 165 points.
Professional Military Education, Computer Training, and Civilian Education: 40 points, 90 points, and 160 points, respectively.
---
4 Army Promotion Points and Changes
For ease of reference, the below table illustrates the changes:
| CATEGORY | Promotion Points for SGT | Promotion Points for SSG |
| --- | --- | --- |
| MILITARY TRAINING | 340 to 280 | 255 to 230 |
| -Weapons | 160 to 160 | 110 to 110 |
| -Physical Fitness | 180 to 120 | 145 to 120 |
| AWARDS | 125 to 145 | 165 to 165 |
| MILITARY EDUCATION | 200 to 230 | 220 to 245 |
| -PME | 40 to 40 | 40 to 40 |
| – Resident Training | 80 to 110 | 90 to 115 |
| – Computer Training | 80 to 90 | 90 to 90 |
| CIVILIAN EDUCATION | 135 to 135 | 160 to 160 |
| TOTAL POINTS | 800 to 800 | 800 to 800 |
Army Promotion Point Changes
The following table provides a summary of changes to point values in various categories. Colors indicate whether there's been a reduction (red) or an increase (green) in point values: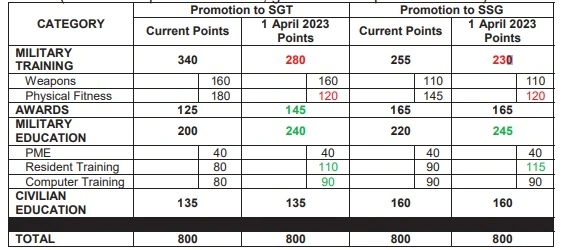 ---
How many promotion points are there for each rank?
The number of points required for promotion varies based on the rank.
Promotion to E-4 (Specialist or Corporal): No points are required, but soldiers must meet time-in-service and time-in-grade requirements.
Promotion to E-5 (Sergeant): Points fluctuate based on the needs of the Army. There is a monthly cutoff, and soldiers need to meet or exceed this threshold.
Promotion to E-6 (Staff Sergeant): Similar to E-5, the cutoff points are set monthly.
---
Army Schools and Courses Promotion Points
The following schools and courses will help you get more army promotion points:
Army Education Promotion Points:
You can get education promotion points for the following:
Professional Military Education:
Some professional courses earn zero points since they are basic promotion requirements. Examples include Structured Self Development courses and the Army Basic Leader Course.
Basic Leader Course:
Promotion points can be earned for exceptional academic work.
Earning a spot on the Commandant's List offers 20 points, and the Distinguished Honor Graduate designation brings in 40 points.
The same applies to the Army Advanced Leader Course.
Promotion Points for ATRRS (Army Training Requirements and Resources System):
Soldiers can earn up to four promotion points a week over 40 training hours for courses listed in the system.
Army Warrior Leader Course:
This course offers up to 80 promotion points for attendance.
Graduating in the top 10% of the class or as part of the Commandant's List can bring in a maximum of 102 points.
Specialized Training Courses:
Completion of Sapper, Ranger, or Special Forces training can result in up to 40 promotion points.
However, the soldier must complete every phase of the chosen program.
Army Correspondence Courses:
Taking Army online classes can yield up to 78 promotion points.
Each five-hour course equals one promotion point.
Programs Not Offering Army Promotion Points:
Some Army programs don't offer promotion points, including:
Basic Training
Advanced Individual Training (AIT)
Officer Candidate School
Warrant Officer Candidate Courses
New equipment training
Military Academy coursework
On-the-job training
Classes required to maintain an MOS
FEMA coursework
Army Promotion Points for Civilian Education:
Prior College Courses: The Army equates one college credit to one promotion point.
Degree Completion with Army Tuition Assistance: Soldiers may earn up to 10 promotion points.
CLEP or DANTES Examinations: Soldiers can earn up to three promotion points for successful test completion.
Civilian College Classes: These can earn up to a maximum of 75 promotion points.
This summary provides a detailed look into the Army's promotion point system and the various avenues soldiers can take advantage of to boost their chances of promotion.
---
How to Get More Promotion Points in the Army
The following are 5 ways to get more army promotion points:
1. Max Out Your Correspondence Points
Importance: Correspondence and online training might feel like a waste of time, but they're incredibly valuable when it comes to promotion points.
Point Potential: You can earn up to 90 points in this area. If you haven't maximized your points, it's time to invest in this avenue. And remember, if you don't have the full 90, it's best to keep it on the down low.
2. Obtain your college transcripts.
Process: Many colleges offer evaluations of your military experience for college credits. While most will do this for free if you enroll in a course, some might charge a fee.
Benefit: Even if there's a fee, consider the potential gains. If you earn 30 college credits through this evaluation, that translates to 60 promotion points.
3. Boost Your ACFT Score
Change in Policy: Starting April 1, 2023, your ACFT (Army Combat Fitness Test) score will count towards promotion points.
Point Difference: Improving your ACFT score can significantly increase your points.
The difference between scores of 540 and 440 is nearly 40 points. So, focus on your fitness and get that score up.
4. Enhance Your Military Expertise and Weapon Score
Weapon Score Impact: Your weapon proficiency can have a huge impact on your promotion points.
For instance, the difference between a score of 26 and 36 is almost 75 points. It's essential to practice and hone this skill for better scoring.
5. Enroll in military schools.
Types of Training: Consider courses like airborne and aerosol.
Why It Matters: All military training can translate into promotion points. The more specialized training you undergo, the better your chances are at maximizing these points.
By focusing on these five areas, you can significantly increase your Army promotion points and fast-track your career advancement. Every point counts, so make sure you're making the most of every opportunity!
---
How many promotion points do you need?
The total number of points a soldier can earn varies depending on the promotion being sought.
When promotion slots become available, those with the highest points in the rank are selected for promotion, provided they meet all other eligibility criteria.
Tips for New Soldiers:
Stay Proactive: Regularly attend training opportunities and seek out responsibilities in your unit.
Be Inquisitive: Always ask about available military or civilian courses that could earn you points.
Maintain Fitness: Regular workouts ensure you're prepared for physical tests, a significant component of the points system.
Stay updated: Army promotion point requirements and avenues can change. Stay updated with army regulations and consult with superiors or mentors.
---
Final Word
The Army promotion points system is a blend of structured training and personal initiative.
New soldiers should understand that while points are essential, they also represent growth, learning, and the enhancement of skills vital to the army and personal development.
Always aim for excellence, and the points—and promotions—will naturally follow.
Latest posts by George N.
(see all)