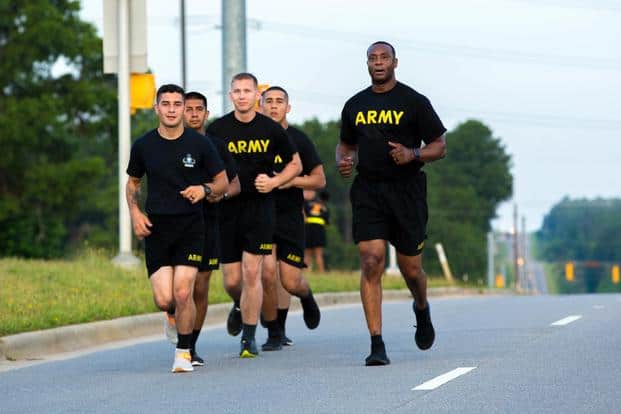 Army PRT (Physical Readiness Training) prepares soldiers for the physical challenges of fighting in the full spectrum of operations.
Army PRT exercises are a series of movements designed to increase muscle endurance and general fitness for potential soldiers or program participants.
It is a popular program created to help soldiers prepare for more intense physical activities.
While it's aimed at potential soldiers, it's a daily workout for those not in the Army.
Military physical training should build soldiers up physically, wake them up mentally, fill them with enthusiasm, and discipline them. That's why the Army PRT program was created for early training in the military.
ArmyPRT.com helps you with the conduct of Army Physical Readiness Training by making the information readily available to you.
I will outline everything you need to know about the PRT exercises in this article.
Army PRT Regulation
The United States Army Field Manual 7-22, Army Physical Readiness Training, is the regulation that governs Army Physical Readiness Training (PRT).
The Army PRT Regulation Manual outlines the doctrine, principles, and methods for conducting and doing Army Physical Readiness Training.
The information on ArmyPRT.com is based on the Army FM 7-22, Army Physical Readiness Training.
PRT Components
The Army PRT regulation outlines three main types of PRT workouts:
Off Ground Training
On Ground Training
Combatives
These exercises enhance a soldier's strength, endurance, and mobility.
PRT Schedule
Army stipulates that units should hold PRT sessions five days a week.
The schedule may vary depending on the operational timetables of a unit.
Unit Commanders
According to the regulation, the Army requires unit commanders to:
Lead PRT sessions personally.
Be responsible for ensuring their units understand and implement PRT and ensure soldiers participate in the PRT.
Risk of Injury
The PRT regulation has guidelines on balancing physical readiness with a soldier's risk of injury.
The regulation provides guidelines on how to do this.
Assessment
The regulation provides guidelines for assessing physical readiness, including meeting the ACFT Standards.
Reconditioning
The Army provides a guide for returning injured personnel to full readiness.
What are Army PRT Exercises?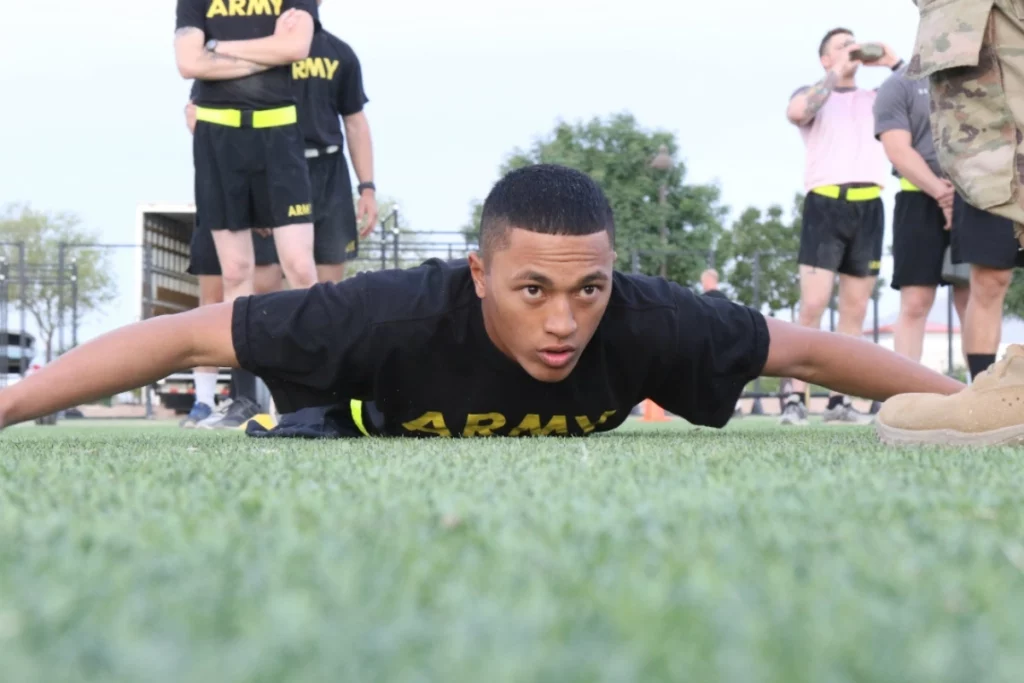 Army PRT exercises are a concise series of workouts you can practice anywhere at any time—no need for fitness equipment or a personal trainer. You can practice at home with guided videos or written guides.
Even if you practice Army PRT exercises for joining the army or for personal purposes, these exercises always work well and benefit your general health and muscle building.
Why are Army PRT Exercises So Popular?
Army preparedness drills are massively popular for a good reason: they make fantastic warmups and stretches for your workouts.
Soldiers consistent with PRT exercises will significantly benefit from the new Army Combat Fitness Test (ACFT).
Passing the ACFT can be challenging, so putting Army prep drills at the core of your training is a smart strategy.
Incorporating these PRT moves into your daily routine will prepare you to crush the ACFT. But these Army exercises aren't just a short-term fix.
They're designed for the long haul to:
Get you into top physical condition.
Strengthen your muscles.
Boost your endurance.
The Army PRT program is a proven system for building real strength that works for soldiers and civilians alike.
It's highly efficient yet incredibly tough, so if you want a serious workout, Army prep drills are a great place to start.
What do Army PRT Exercises Include?
Army PRT exercises include movements that you can easily follow.
Here are ten basic PRT exercises:
Bend and Reach
This move helps you touch your toes more easily while building strength in your spine and extremities.
Rear lunges
These improve your balance and lower body strength in a simple motion; you can start with 5–10 reps at a time.
High jumpers
Great for boosting coordination, balance, and overall strength as you jump and land in control.
Rowers
Perfect for training your back and core muscles while working your arms.
Squat benders
Flexibility, strength, and endurance come together in this exercise that loosens up your lower back.
Windmills
Improve your rotational mobility while hitting shoulders, legs, and trunk with just one move!
Forward Lunges
Build powerful legs and stable balance as you step forward into the lunge position.
Prone row
Although challenging, focusing on pulling your elbows to your sides targets shoulders and back muscles effectively.
Bent-leg body twists
The bent leg body twist is a more advanced exercise that strengthens your core muscles and midsection over time.
Push-ups
Push-ups work most of your body from the shoulders to the glutes, providing a full-body strength and endurance workout.
Pros and Cons of Army PRT Exercises
The Army PRT workouts can be very effective for building overall fitness and endurance, but they aren't suitable for everyone.
Here are some pros and cons I've noticed in my clients who've tried them:
Pros of Army PRT Exercises
These workouts condition your entire body as they involve push-ups, sit-ups, running, and full-body movement that targets all your muscles.
The PRT drills focus on consistently doing each exercise for a time, which builds excellent stamina over the long run.
We often recommend starting with five repetitions and gradually increasing from there.
You don't need any special equipment – all the exercises can be modified for home use, which makes staying consistent much easier.
Sticking to a regular PRT workout routine can help you lose weight and naturally get in shape without drastic dieting.
Most individual exercises require movements in a slow, controlled fashion, which challenges your strength.
Cons of Army PRT Exercises
It takes patience and practice to perfect the form and pacing for some of these drills, especially for individuals new to intense full-body workouts.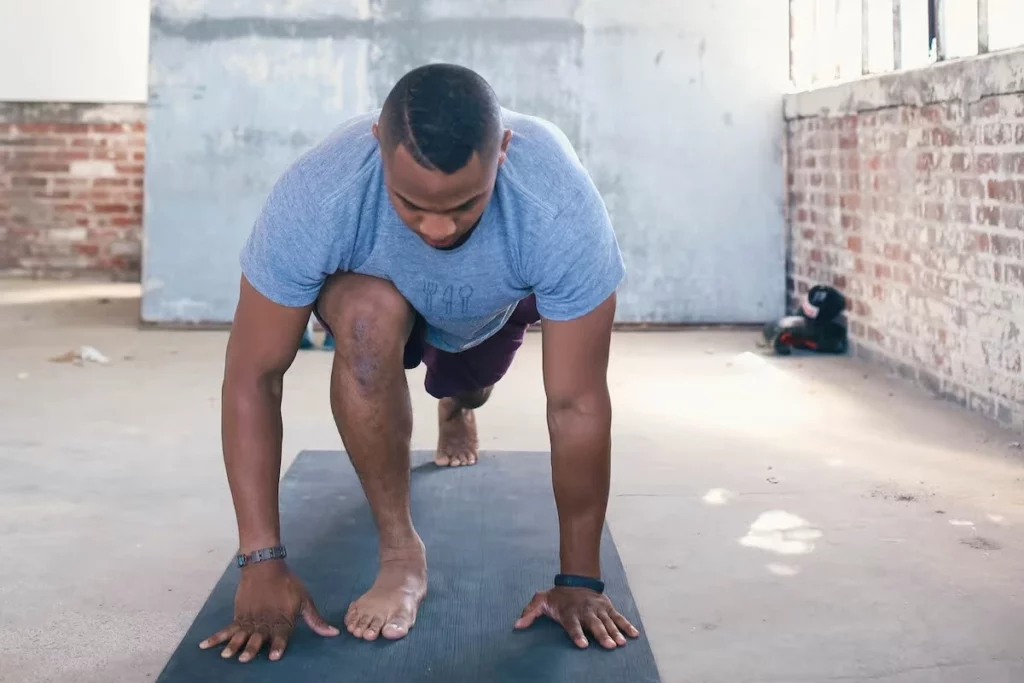 Some advanced exercises can pose a challenge even for people in decent shape. The high repetition and
Should We Practice Army PRT Exercises?
I highly recommend Army PRT exercises to those who want an easy but effective full-body workout.
These PRT exercises include several simple bodyweight exercises targeting almost all the major muscle groups.
As a regular practitioner, you can start with a few reps and gradually build up later.
It's also a perfect way to ease into your workout without any workout equipment. You can do the warmup anywhere – at home before heading to the gym or outside on a nice day!
Therefore, try Army PRT exercises today. Start with simple steps and movements, do what you can, and build your own routine from there.
You can see a very difference in your strength and overall fitness in just a short period.
Conclusion
Army PRT exercises provide a compelling body workout that can benefit many people.
Whether you're planning to join the army, are currently serving in the military, or are just finding a simple and effective workout at home, these exercises will be the best choice for your workout routine.
Latest posts by George N.
(see all)