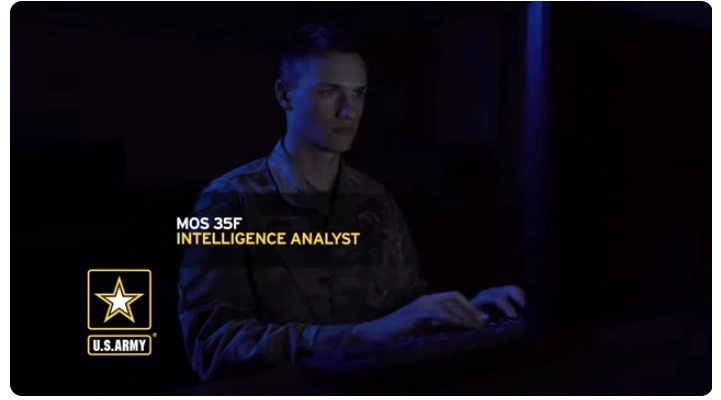 The US Army's 35F MOS Intelligence Analyst is an essential role responsible for collecting, analyzing, securing, and disseminating pivotal intelligence data.
These individuals play a significant role in assisting combat commanders, helping with mission planning, and safeguarding national security.
This guide delves deep into the 35F MOS (Military Occupational Specialty) role, its requirements, training, and the potential career opportunities it presents.
Eligibility & Qualifications for an Army 35F Intelligence Analyst
Before one can become an Army 35F intelligence analyst, specific prerequisites must be met:
| Requirement Category | Details |
| --- | --- |
| Security Clearance | Top-secret security clearance required |
| Citizenship | Must be a U.S. citizen |
| Age Requirement | 17 to 34 years old |
| Educational Background | High school diploma or GED |
| Tattoo Guidelines | Must meet the U.S. Army's tattoo policy |
| Legal Record | No major law violations |
| Medical Standards | There are no concerning medical issues that disqualify the individual |
| Peace Corps Association | Previous associations disqualify candidates |
| Entry Level | No prior military experience needed |
| ASVAB Test Score | A minimum score of 101 on the Skilled Technical portion is essential |
35F MOS Training & Education
Once all the initial requirements are satisfied, aspirants undergo rigorous training.
Basic Military Training: A 10-week program where recruits learn the basics of the army lifestyle and combat training
Advanced Individual Training (AIT): Lasting 16 weeks at Fort Huachuca, AZ, AIT blends classroom knowledge with field training. Recruits get hands-on experience with advanced technologies and learn efficient information-gathering and communication techniques.
Skills Essential for 35F MOS
A successful intelligence analyst possesses:
Clear communication and writing skills.
Aptitude for reading maps and charts.
Acumen for information gathering and comprehension
Analytical thinking and problem-solving prowess
Duty Stations for a 35F Intelligence Analyst
Serving as a 35F intelligence analyst means having the potential to be stationed in various parts of the world.
Whether within the continental U.S. or overseas, duty stations provide unique experiences and exposure to diverse military operations.
Army 35F personnel may be stationed at various locations:
Inside the Continental US (CONUS):
Aberdeen Proving Ground, MD
Buckley, SFB, CO
Eglin AFB, FL
Fort Belvoir, VA
Fort Bliss, TX
Fort Campbell, KY
Fort Carson, CO
Fort Cavazos, TX
Fort Drum, NY
Fort Gordon, GA
Fort Huachuca, AZ
Fort Hunter, Liggett, CA
Fort Johnson, LA
Fort Knox, KY
Fort Leavenworth, KS
Fort Leonard Wood, MO
Fort Liberty, NC
Fort Meade, MD
Fort Moore, GA
Fort Novosel, AL
Fort Riley, KS
Fort Sill, OK
Fort Stewart, GA
Joint Base Lewis-McChord, WA
Joint Base Myer-Henderson Hall, VA
Joint Base San Antonio, TX
Kirtland AFB, FL
MacDill AFB, FL
Redstone Arsenal, AL
Rock Island Arsenal, IL
USAG, Miami, FL
Outside the Continental US (OCONUS):
Camp Arifjan, ASG Kuwait
Camp Zama, Japan
Fort Wainwright, AK
Joint Base Elmendorf-Richardson, AK
Joint Base Pearl Harbour-Hickam, HI
Kadena AB, Japan
RAF Lakenheath, UK
Ramstein AB, Germany
USAG Ansbach, Germany
USAG, Bavaria, Germany
USAG Benelux-Shape, Belgium
USAG Daegu, South Korea
USAG Hawaii
USAG Humphreys, South Korea
USAG Italy
USAG Japan
intelligence Okinawa, Japan
USAG Rheinland-Pfalz, Germany
USAG, Stuttgart, Germany
USAG Wiesbaden, Germany
USAG Yongsan-Casey, South Korea
These duty stations represent just a fraction of the places an Intelligence Analyst might serve during their career in the Army
Job Duties of a 35F MOS Intelligence Analyst
An intelligence analyst in the Army performs a crucial role in both strategic and tactical intelligence operations. Imagine this role as piecing together a complex puzzle.
This military occupation specialty (MOS) is perfect for individuals who thrive in analytical thinking, problem-solving, and sifting through vast amounts of data to extract relevant information.
Analyzing and Reporting:
Strategic Analysis: These analysts examine and provide crucial information about enemy forces and potential battlegrounds.
Technological Familiarity: Being trained in computer systems, they need to be adept at handling various technological tools and networks.
Data Gathering: At times, an analyst might need to set up networking in tactical areas to collect data.
Data Validation: Once information is acquired, its significance and reliability are compared with existing intelligence.
Information Relevance: They learn to distinguish time-sensitive information pertinent to ongoing missions and continuously compare new data with existing intelligence to determine its relevance.
Documentation: Every piece of information is meticulously documented, ensuring it's easily accessible and cross-referenced.
Mapping:
Chart Preparation: A significant part of the 35F duties involves drafting maps, charts, and maintaining intelligence records.
Use of Military Symbology: They use Military Symbology, markings on manual or digital maps, to denote information about weather, terrain, and enemy positioning swiftly.
Consolidation: Analysts consolidate this information onto situational maps after collecting multiple data sources.
Security Duties:
Document Security: They ensure sensitive documents are protected both physically and electronically.
Clearance: Analysts provide soldier clearance, determining who can access specific information.
Addressing Vulnerabilities: The responsibility also includes identifying and rectifying security vulnerabilities to prevent leaks.
Tactical Duties:
Briefing Commanders: Post data collection, analysts prepare comprehensive intelligence to support commanders during briefings.
Direct Impact: The insights provided by the analyst play a pivotal role in shaping the commander's decisions, ultimately influencing the mission's direction and objectives.
What Does an Intelligence Analyst Get Paid?
Serving as an intelligence analyst in the Army involves handling highly sensitive information, necessitating a top-secret security clearance.
Even though it's a role of immense responsibility, it's still considered an entry-level position in the Army.
Starting Salary:
If you're joining as an intelligence officer with no prior military experience, you're likely to start with a salary of around $23,000 in the first year.
It's worth noting that the pay during the initial four months might be slightly different, as this is when training occurs.
Army Base Pay Table:
For a clearer picture of the base pay in the Army, let's delve into the specifics with a detailed pay table:
| Pay Grade | Rank | Abbreviation | Minimum Monthly Pay |
| --- | --- | --- | --- |
| E-1 +4 months | Private | PVT | $1,917.60 |
| E-2 | Private Second Class | PV2 | $2,149.20 |
| E-3 | Private First Class | PFC | $2,259.90 |
| E-4 | Specialist | SPC | $2,503.50 |
| E-4 | Corporal | CPL | $2,503.50 |
| E-5 | Sergeant | SGT | $2,730.30 |
| E-6 | Staff Sergeant | SSG | $2,980.50 |
| E-7 | Sergeant First Class | SFC | $3,445.80 |
| E-8 | Master Sergeant | MSG | $4,957.20 |
| E-8 | First Sergeant | 1SG | $4,957.20 |
| E-9 | Sergeant Major | SGM | $6,055.50 |
| E-9 | Command Sergeant Major | CSM | $6,055.50 |
| E-9 | Sergeant Major of the Army | SMA | $6,055.50 |
This table gives a representation of the base pay, but it's important to remember that there are other potential benefits and allowances, such as housing, that can supplement an analyst's income.
Additional Army MOS 35F Benefits
Beyond base pay, the army provides:
Bonus opportunities and compensation
Allowances for housing, food, and military clothing.
Medical and dental coverage.
30 days of paid vacation annually.
Civilian Career Opportunities
A stint as an intelligence analyst equips one with skills transferable to civilian roles:
Government Roles: Opportunities with agencies like the Central Intelligence Agency (CIA)
Corporate Positions: Roles in research or business planning
Potential Job Titles: Computer Operator, Security Management Specialist, Technical Writer, etc.
Moreover, advanced education and certifications like the CDASA-1 from DIA can further bolster both military and civilian career opportunities.
Frequently Asked Questions
What does a 35F do in the Army? They handle the collection, analysis, and dissemination of critical intelligence.
How much does an intelligence analyst make in the Army? This can vary based on rank, years of service, and additional allowances.
How do I become a military intelligence analyst? Meeting the requirements listed above and undergoing the necessary training sessions will set you on this path.
How long is intelligence school for the Army? Advanced individual training for this role is 13 weeks long.
What ASVAB score do you need for Army intelligence? A score of 101 in the Skilled Technical (ST) category is required.
A Day in the Life of an Army Intelligence Analyst: My Experience
Morning Routine:
Each day as an intelligence analyst starts early with a rigorous morning physical workout.
It's an essential routine, ensuring I'm always alert and ready for the day ahead.
Assigned Units:
After the workout, I typically head to my assigned unit.
Whether it's a fixed intelligence unit or a field unit, such as psychological operations, artillery, or air defense, each brings its own unique challenges and demands.
My role requires adaptability, and no two days are precisely the same.
Report Analysis:
A significant portion of my day involves reading and analyzing multiple reports. The information I extract from these is crucial; it's not just about understanding the data but discerning the underlying patterns and implications.
Presentations:
Once analyzed, I often find myself preparing detailed presentations for our commanding officers.
These presentations need to be concise, clear, and actionable, providing them with the insights they need to make informed decisions.
Maintaining Records:
Another essential aspect of my role is maintaining systematic records. Every piece of information, every report, and every bit of data needs to be logged meticulously.
An error, no matter how small, could have significant consequences.
These databases don't just store information; they are a repository of shared knowledge, facilitating collaboration between various strategic agencies.
Varying Hours:
While the daily schedule might seem routine, the nature of the mission often dictates my hours.
Some days, the tasks are wrapped up within regular working hours, while on other days, the demands of the mission require extended hours of work.
It's unpredictable, but that's a part of what makes this role both challenging and rewarding.
In the end, serving as an intelligence analyst is about more than just the tasks and duties; it's about contributing to the bigger picture and ensuring the safety and success of our operations.
Every report read, every presentation made, and every database maintained play a pivotal role in the grand scheme of things. And as I lay down each night, I take pride in knowing that my work has made a difference.
Conclusion
The Army 35F Intelligence Analyst has an integral, challenging, and rewarding role within the military framework.
These analysts have the responsibility of safeguarding national security, making their contributions invaluable.
With comprehensive training, competitive pay, and a plethora of civilian career opportunities post-service, the MOS 35F is an excellent choice for those seeking a fulfilling career in military intelligence.
Related Article: Army Counterintelligence Agent (MOS 35L): Career Details
Latest posts by George N.
(see all)